Sartin Memorials and Mike's Laser Etching is a family owned business with over 70 years experince providing headstones, gravemarkers, and memorials locally in Delaware, Maryland, Pennsylvania, and nationwide since 1940.
Sartin Memorials & Mike's Laser Etching operates out of Saint Georges, Delaware. Established in 1940, Sartin Memorials has served the community by offering quality headstones, gravestones, and cemetery memorials at fair prices for 70 years. We are a direct granite importer which allows us to offer wholesale pricing on headstones, gravestones, and cemetery memorials. Purchasing a headstone can be a difficult task and we at Sartin Memorials do everything in our power to make the experience as pleasant as possible. We offer options other monument dealer can't! As a Delaware monument dealer we are proud to provide the tri-state area with headstones and gravestones to adorn the graves of lost loved ones. We also offer cemetery lettering serves to our local customers when the time to add a final date to an existing headstone comes.

In 2004 Mike, the owner, invested in the headstone engraving technology of the future...laser etching! He purchased a Vytek FX Laser Etcher and Mike's Laser Etching was born. The ability to laser etch photos, images, and lettering on granite and marble has made it possible to customize headstones and gravestones in a way traditional sandblasting never could. With the success our Mike's Laser Etching, locally & online, we were able to recently expand our laser etching endeavors with the purchase of two top of the line Vytek LStar Laser Etchers. Our LStars can etch a single image up to 8' x 4'! We are now capable of etching a continuous image from one side of a large headstone to the other, with no seams or breaks, allowing us to create truly beautiful and unique headstones and gravestones for our customers all over the United States. Mike's Laser Etching & Sartin Memorials was interviewed by Middletown Transcription in March of 2009. Stop by and read the article about us on the Transcripts' website. For more information on the laser etching process visit our Laser Etched Process section of this website.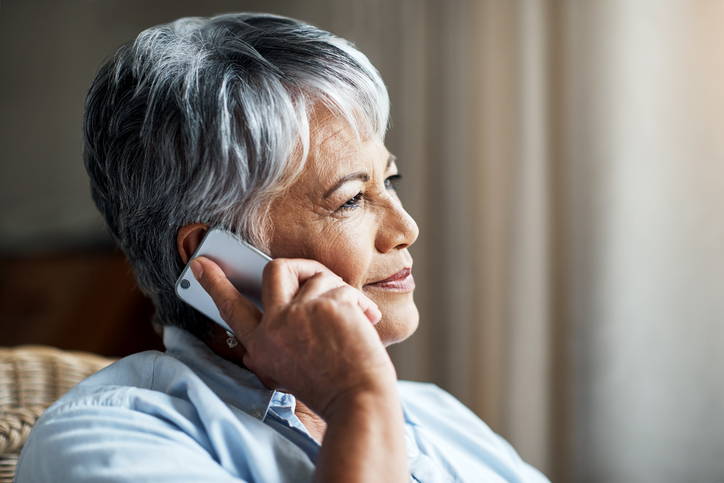 Speaking with a Memorial Consultant
The first step in our process is a simple conversation with one of our trained memorial consultants. They will guide you through the process of memorial selection, design, and installation and answer any questions you have. Our consultants are experts in helping find the perfect memorial within your budget and simplifying the process during difficult times
---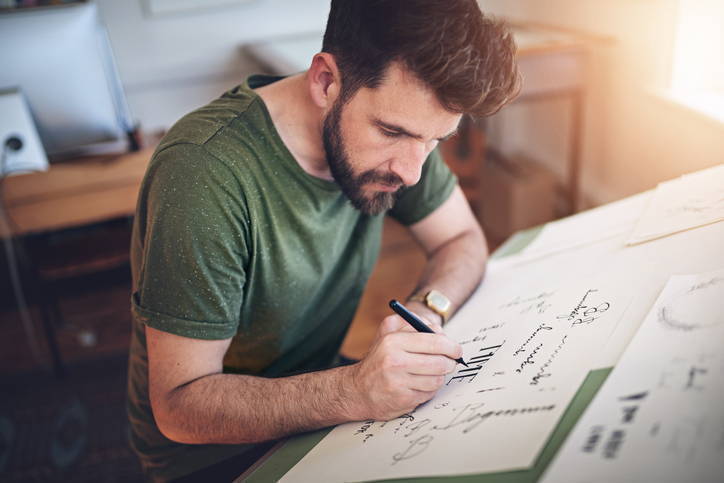 Our designers and artists bring decades of experience to the creation process and understand that importance each headstone and memorial we design. With great care, they personalize each design to best represent those being remembered be it with a photograph, family crest, or by incoporating one of our many custom lifestyle designs.
---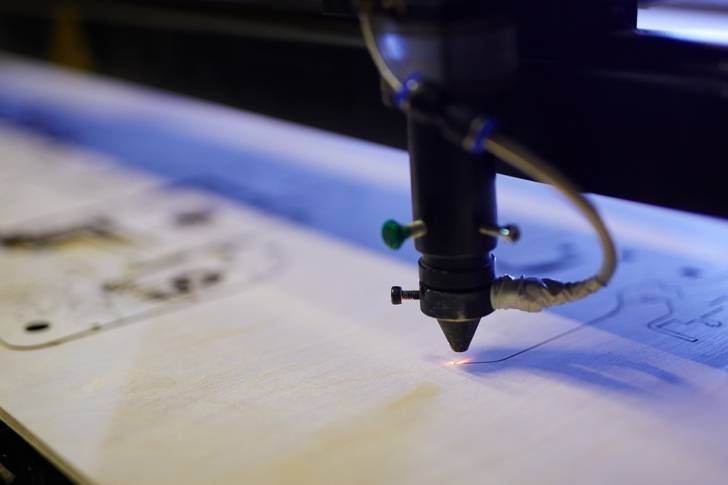 Our state of the art laser etching machines allow you to place photo quality designs onto your memorial. These beautiful and intricate desings allow for unlimted custimization and can include family portraits, landscapes, pets, and more. We take your ideal design and permanetly etch it into granite so that it honors your loved ones and stands the test of time.
---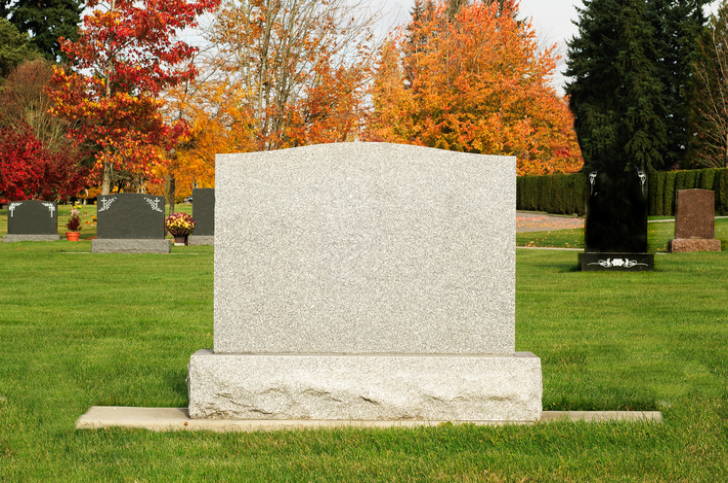 Our experineced installers take great care to ensure that every memorial is installed properly and meets the highest display standards. We offer gavesite installation in North East Marland, South Eastern Pennsylvania, and New Jersey. We also ship monuments across the continental United States including Hawaii and Alaska, ensuring that every memorial arrives in order.
---
A Warranty you can trust.

Every relationship with Sartin Memorial and Mike's Laser Etching starts with a simple promise. We guaruntee the best quality and craftmanship to every client and treat each memorial as if it were for someone in our own family. It is an easy thing to say, but we back it up with a FULL WARRANTY that extends to the purchaser, the purchaser's heirs, and the cemetary where Sartin's Memorial is errected. For any questions related to our warranty or the process for ordering and customizing a memorial, please contact us.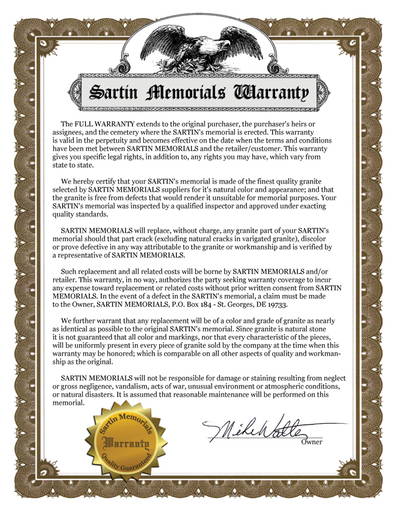 Are you searching for a memorial but not sure about the next step? Please send us a brief message and one of our memorial consultants will reply to you within 24 hours.
Thanks!
This field is required
This field is required
This field is required
This field is required